What is academic integrity?
Academic integrity is the importance of behaving honestly and truthfully when completing assignments or examinations. Generally, this relates to completing and submitting your own work for assessments and avoiding plagiarism by acknowledging other people's ideas when discussing them.
Academic integrity is important. It means you have researched your work well, that you acknowledge the work of others, and that you and your work can be trusted. Good quality academic work demonstrates courage, honesty, trust, fairness, respect and responsibility. This means crediting your sources and acknowledging where your knowledge and information have come from.
"The University of Worcester uses the term 'academic misconduct' to describe behaviour where students break rules on academic integrity. Some people would simply call this cheating."

University of Worcester
This short video (5:16) tells you more about academic misconduct and how to avoid it.
Types of academic misconduct
There are several different types of academic misconduct:
Collusion: working together with another student to produce work
Word for word copy: copy and paste with no acknowledgment of the resource used
Sham paraphrase: directly copying something without using quotation marks
Fake reference: fabricating a reference source that doesn't exist
Self-plagiarism: reusing your own identical or nearly identical work without citing the original
Word switch (close paraphrasing): copying a sentence or paragraph and changing a few words
Concealed sources: not citing a source every time it is referred to. You must acknowledge a source every time it is used, not just at the end of a paragraph
Illicit paraphrase: paraphrasing a source without referencing the author
Not your work: presenting work not written by you, either copied from another student or commissioned from a third party such as an essay mill
Falsification of data: inventing, altering or misrepresenting data
Cite Them Right tutorial
Help is available. Alongside teaching on academic integrity as part of your course, you can use the Cite Them Right tutorial and download a certificate of completion. The tutorial is available for all the styles of referencing used at UW: Harvard, APA, MHRA, OSCOLA and Vancouver. It is designed to build your awareness in seven key areas:
What is referencing?
When to reference
Common knowledge, anecdotal and confidential information
Understanding and avoiding plagiarism
How to set out citations and quotations
Paraphrasing and summarising
How to set out references
Turnitin
When you submit an item to Turnitin, it is checked against:
Other student papers
Current and archived web site content
Journals and publications
Once you've submitted a paper Turnitin creates a similarity report within 24 hours. This highlights where the software has made text matches with other papers, books and journals. It is quite usual for an assignment to match against some items in the database, or in other journals or web pages.
The report uses a colour scheme to show the percentage matches within the document and for the final total score. A high match to any individual source can be plagiarism or self-plagiarism.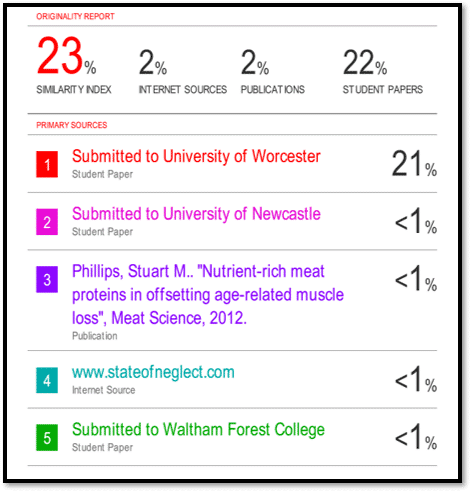 There is no official 'good' percentage boundary. Even a high percentage can be due to other factors (for example, use of a template or proforma as part of the assignment)
A high percentage may be made up of lots of 1% matches or a few large paragraphs of copied text. A large unattributed paragraph may be cause for concern.
The Turnitin interpretation guide can help you work out what your report means.
What are the penalties for poor academic practice?
Academic misconduct and can result in serious penalties.
The University has procedures and penalties in place for cases of academic misconduct. In order of severity these include:
Formal warnings
Failure of assessments
Capped grades
Failure of modules
Lowering of final degree classification
Expulsion from the University
We strongly recommend familiarising yourself with your referencing format, completing the Cite Them Right tutorial and downloading your certificate on completion to show your academic integrity skills.
The Students' Union can provide advice and representation if you have to attend an AIT meeting because of issues with academic misconduct.
How can I have good academic practice?
Always acknowledge the work of others and the sources of your information.
Avoid plagiarism
Plagiarism is taking someone's work or idea and passing it off as your own. It is a form of cheating which the University of Worcester takes very seriously, as you'll see from the University's Procedures for investigations of cases of alleged Academic Misconduct (2016).
To avoid plagiarism you should:
Reference well

Library Services referencing pages have the guides for the referencing systems for each subject area. Make sure you know which style you are meant to be using.
Do the Cite them Right tutorial. Whatever your required referencing style, this tutorial will take you through the key elements of citing good quality information.

Learn to paraphrase
Paraphrasing means putting something in your own words. It shows you have understood what you have read and rephrases something more simply. To paraphrase:
Read the source, several times if necessary, and make sure you understand the meaning

Note the key points you want to make
Write your paraphrase without looking at the original
Make sure your version has different words and structure from the original, but doesn't change the meaning
Reference the original source, including page numbers where available.
The UCL Institute of Education has more advice and examples on how to paraphrase well.
Get organised
Plagiarism often happens because you lack time and are under increased pressure to submit work. Plan a schedule for each assignment which includes reading, notetaking, writing and proof-reading. There is lots of advice available to help you plan, prioritise, and focus your time.
Keep track of where you take quotes and information from
Record the details of what you have read including page numbers as you go
Make folders of resources for each assignment.
Organise your references with referencing tools
Take our skills audit to find out if there are any areas you can improve on.
Be original
It is possible to self-plagiarise by submitting all or part of your own work for more than one assessment. If you need to cite your own previous work, you should provide a full reference for your own work.
Make sure all your images and data are your own work. If they originate from somewhere else, then provide a reference.
Do not, under any circumstance buy or borrow someone else's essay and submit it as your own. This is cheating and it is extremely likely that Turnitin or your tutor will spot this.
Read well
The more you read, the better your writing and referencing will become. You'll find it easier to complete your assignment and back up your arguments. If you read academic books and articles, you'll also see lots of examples of good referencing.
Where can I get help?